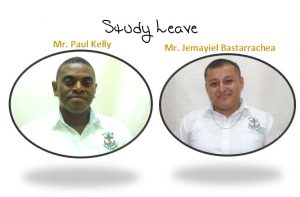 Two SPHS teachers are going on study leave this school year to further their studies. Mr. Paul Kelly is attending the University of Boston in Boston, Massachusetts to pursue his Master Degree in Special Education. Mr. Kelly will be leaving on August 28, 2018 for one year.
Also, Mr. Jemayiel Bastarrachea is attending the University of Belize in Belmopan City to pursue his Bachelor's Degree in Spanish Education. Mr. Bastarrachea is already attending classes for the next two years.
The faculty, staff and Board of Directors wishes both teachers best of luck in their pursuit of further education and eagerly awaits their return at the end of their studies. Good Luck Gentlemen!!